Our Services
How can we help you?
Go to Design
Design
Bring your ideas and vision for your business alive. Custom design your sign with us today.
Go to Manufacture
Manufacture
We manufacture our signs, custom store fronts and branded art installations in house. If you can dream it we can build it.
Go to Install
Install
We are not afraid of heights. Our technicians will install your sign safe and secure. We can help with permits too!
Go to Repair and Service
Repair and Service
Our skilled and experienced technicians can service, repair or restore any sign from regardless of manufacturer.
About Us
A sign company servicing our local Jersey Shore and the Tri-State area for over 100 years
Rex Sign Company has been in continuous operation since the American Civil War. Originally owned by Ed Stroud it was acquired by Eduard Janocha in 1925, who changed the name to Rex Sign Company. Since that time, Rex Signs has been a family owned and operated business with a fourth generation now firmly entrenched in the sign industry.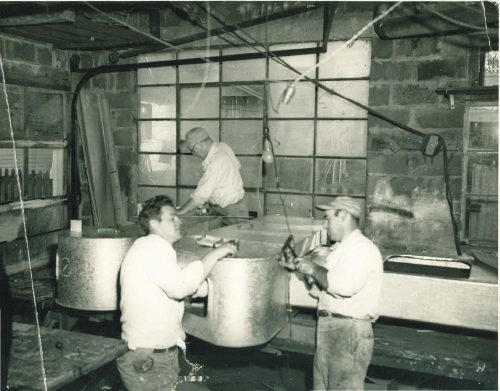 The early employees were skilled artisans and craftsmen whose style and workmanship has been passed down over the years. We at Rex Signs still takes our craft very seriously; Which is one of the reasons why our creative and quality aspects are unsurpassed. Rex Sign has evolved by integrating the best technology available. We are able to create virtually any type of sign or display that will fit the needs of our customers. The classic methods of brushes, paint, gold leaf, carving and of course neon are still part of our repertoire but we are also on the cutting edge of new mediums, LED lighting, fiber optics, digital prints, awnings, as well as computer aided design and cutting are just a few of the new tools we use in the pursuit of finding a sign that exceeds the customers every expectation.
Ready to make your vision a reality?